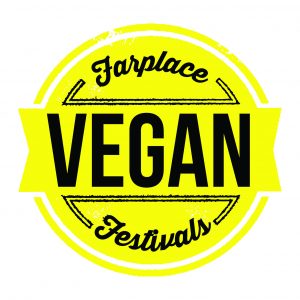 Our vegan events team are here to help you in advance and on the day of the events.
Farplace Vegan Events Office, 122 Station Road, Wallsend, NE28 8QS
Tel 0191 263 4736
Email festivals@farplace.org.uk

This is our events team of Kerri, Gareth and Rachael
Kerri is our ever smiling energetic vegan events manager with a personality that wants you to have a great event every time. This Geordie lass with the big smile joined the Farplace team in 2016 and has exciting plans for our future events. Kerri promotes a healthy vegan lifestyle and has helped to establish Vegan Runners as the fastest-growing athletics club in the U.K. She is still very active in Vegan Runners both as a runner and chairperson. Always thinking of ways to improve the events, she will go the extra mile for every visitor, stall holder and sponsor. She is allergic to her spaniel so resigned to forever sneezing due to her new family member. She loves elephants and bears and she likes wine, pizza and Indian food. She watches action and cheesy films to unwind and always loves to laugh and have fun.
Gareth is co-founder and Chair of the Trustees of Farplace Animal Rescue and creator of all of the festivals, so you have him to blame for all the events. He shares his home with 150+ rescued animals needing new homes and 600+ board games, and is a proud ageing hippie and geek extraordinaire. He thinks ALL sci fi is amazing, from Star Trek to Lexx, Battlestar Galactica to Babylon 5. He has been vegan for 9 years for the animals and created the Talk To Me I'm Vegan Campaign. His favourite animal is the humpback whale and he loves vegan junk food FAR too much. Carcasonne and Small World are his favourite board games and Brass Castle beer is his favourite drink. Look for the loudest pair of trousers at a festival and that is usually Gareth. He thinks EVERY stall holder, sponsor, speaker, volunteer and visitor to all the festivals are amazing people because you all are.
Rachael is our amazingly organised Vegan Events Manager. Her talents lie in procedures and systems to get everything ship shape. Making sure every event is photographed and captured so that no sponsor or stall holder misses out on any chance for publicity. Her passion in conservation is demonstrated through her great campaign ideas for spreading the vegan message. Rachael has a busy social calendar to keep up with her energetic personality and love for dancing! After graduating in Biology from the University of Leeds she went on a 4 month solo backpacking trip around SE Asia. Her most amazing animal encounter was seeing a Tapir while trekking in Malaysian rainforest. If she could only eat one food for the rest of her life it would be mashed potatoes. In her spare time she enjoys karate, yoga and watching anime.
We are all there to help – catch any of us at any of the festivals and we will do everything we can to help you.